Telegram Hacks 2023: Mastering the Latest Telegram Tricks and Tips
Tired of being a telegram novice? Ready to step up your game? You've come to the right place. Welcome to the exciting world of Telegram Hacks! This blog is your guide to mastering all the telegram tips and tricks that can transform your messaging experience. 
Also Read: Delete Telegram Account
Let's dive right into some of the most effective telegram hacks that you need to know.
1. Auto-Night Mode:
Telegram's Auto-Night Mode is a feature designed to reduce strain on your eyes when using the app during nighttime or in low-light conditions. It allows you to set up the app to automatically switch to a darker theme when it detects low sunlight or according to your local time. This feature enhances user experience by making the app more comfortable to use in different lighting environments.
2. Self-Destructing Messages
Also Read: WhatsApp Hacks
This exciting Telegram feature allows you to send messages that have a built-in timer for self-destruction. You can set a specific time for the message to automatically disappear after it has been read by the recipient. It adds an element of secrecy and privacy to your conversations, making it perfect for sharing sensitive information or simply having fun with your friends, reminiscent of spy-like communication.
3. Editing Sent Messages:
Made a typo? No worries. One of the telegram tips you'll love is the ability to edit your sent messages. Now, that's something we wish real life had.
Telegram grants you the ability to edit messages that you have already sent to your contacts or groups. If you notice a typo or mistake in your sent message, you can quickly correct it without the need for follow-up messages or explanations. This feature helps improve the overall communication experience and reduces the stress of accidentally sending incorrect information.
4. Setting Reminders:
Alright, let's move forward. Now, we're going to delve into the realm of telegram bot tricks.
Did you know that you can set reminders using telegram bots? Yes, you heard it right. This useful hack can help you stay on top of your schedule without leaving your chat window.
With Telegram bots, you can enjoy the convenience of setting reminders directly from your chat window. These bots are automated programs that can perform various tasks, and setting reminders is one of their useful functionalities. You can schedule important tasks, appointments, or events and receive timely reminders to help you stay organized and never miss an important deadline.
Also Read: Threads Hacks
5. Inline Bots:
Say goodbye to switching between apps to share content. With inline bots, you can share content from other apps within your telegram chats. It's like having your favorite apps integrated within Telegram!
Inline bots are a powerful integration in Telegram that allows you to access and share content from other apps or services without leaving the Telegram chat interface. These bots can provide various services, such as searching the web, finding GIFs, generating QR codes, language translations, and more. With inline bots, you can seamlessly share content and perform tasks within your conversations, streamlining your communication experience.
6. Custom Stickers:
One of the best telegram tips is creating your own stickers using telegram bots. Add a personal touch to your chats with custom emojis and stickers.
One of the coolest features of Telegram is the ability to create custom stickers using Telegram bots. Stickers are expressive and fun visual elements that add personality to your chats. With custom stickers, you can create your own emojis and unique visuals to make your conversations more enjoyable and personalized.
Also Read: Facebook Hacks
7. Stay Invisible While Checking Messages
One of the coolest telegram hacks is the ability to read messages without letting the sender know. Just turn on the 'Flight Mode' on your device, open the chat you want to read, and once done, close the app before turning off the 'Flight Mode'. Voilà! You've read the texts without triggering the 'seen' notification.
8. Theme Customization
From the aesthetics of the telegram app to the functionality, everything can be customized as per your preferences. Navigate to the Settings option in your Telegram app to enter a world of customization.
Under the 'Chat Settings', you'll spot the 'Change Chat Background' option. Here, you can play around with different colors, gradients and even set your favorite picture as the chat background. Make your Telegram experience truly your own!
Also Read: Twitter Hacks
9. Using Telegram Bots
Did you know that you can enhance your Telegram experience with the use of bots? Bots on Telegram can perform a multitude of tasks, ranging from setting reminders to playing games.
"Telegram bots, are simply Telegram accounts operated by software that respond to your messages or mentions."
From tracking your expenses, and managing your to-do lists, to even learning a new language, Telegram bots can do it all. To start using bots, simply search for them in your contacts, or find them on the store.
10. Chat Folders and Pinning Messages
Telegram also offers the option of organizing your chats into folders. This keeps your interface clean and makes it easier to navigate through your chats. Simply head to 'Settings' and then to 'Folders' to start organizing.
Open Telegram App
Go to 'Settings'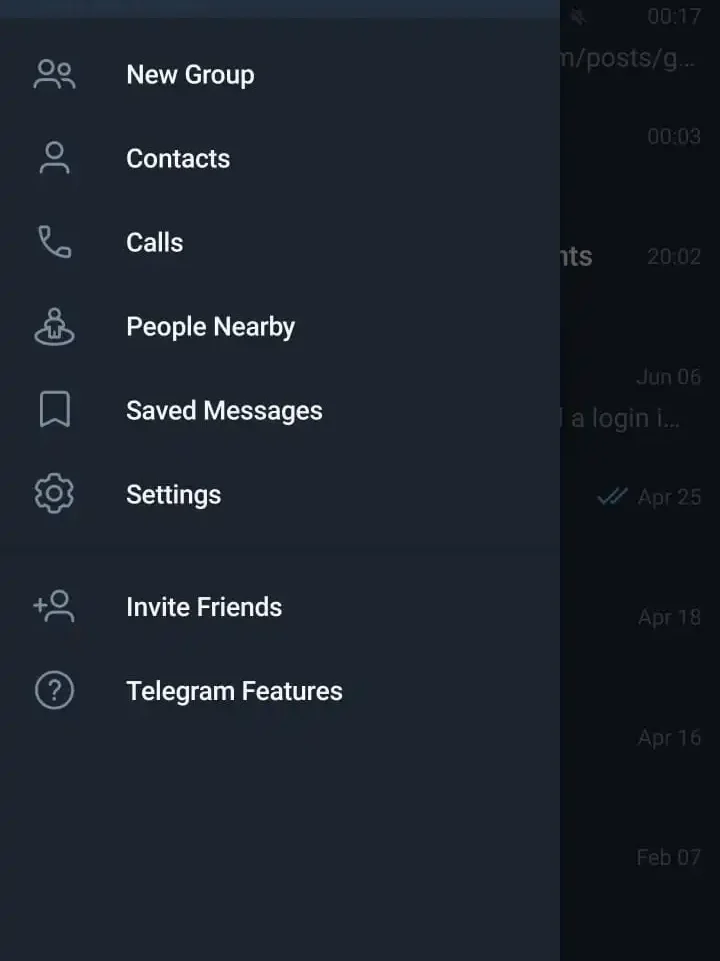 Click on 'Create new Folder'
Also, if there's an important message you'd like to refer back to in the future, Telegram allows you to pin that message. Simply long-press the message and hit the 'pin' icon on the top.
With these hacks and tricks, your Telegram experience can be significantly enhanced. The app offers much more than just messaging, providing a host of features to explore and utilize. Start exploring these features today and make the most out of Telegram!
11. Secret Chats
If you are a stickler for privacy, Telegram's secret chat feature is just for you. It's an encrypted chat that self-destructs messages after reading, leaving no trace of the conversation on any server.
Also Read: Amazing Google Tricks
12. Use Hashtags for Easy Search
No more scrolling through endless chats to find a specific message. Use hashtags (#) to label and easily locate your messages later on.
13. Multiple Accounts
You don't need to log out every time you want to switch accounts. Telegram lets you add multiple accounts and easily switch between them.
14. Personal Cloud Storage
Use Telegram as your personal cloud. Send any type of files to your own chat called "Saved Messages" and access them from any device.
15. Schedule Messages
If you want to send a message at a specific time, don't wait around. Just type the message and hold the 'send' button to schedule it.
16. Customizing Swipe Actions
Picture this. You're scrolling through your chats and you accidentally swipe left. Instead of just an unintentional deletion or archiving of a critical conversation, you get to decide what this swipe does. Sounds good, right?
With Telegram, this dream becomes a reality. The platform allows you to customize what happens when you swipe left on a chat – whether it's to archive, pin, mute, or delete. You can find this feature in the Settings.
17. Using the Hashtag Feature
Let's talk about Telegram's hashtag feature. It's like a built-in search engine within your messages. How cool is that? You can mark key elements in your chats with hashtags. Then, you're just a click away from finding all related notes in the future. It's a life saver for those who tend to lose information and conversations amid the daily deluge of chats.
Pro Tip: Regularly using hashtags makes it easier and quicker to search for specific messages.
18. Editing Sent Messages
Ever hit send and then spot a glaring typo? We've all been there. But here's the good news. Telegram comes to your rescue with its 'Edit' feature. You can modify your sent messages, even after they have been read. Just tap and hold the message you want to edit and then click on 'Edit'.
Conclusion:
There you have it – a comprehensive list of telegram hacks, tips and tricks to impress your friends with your Telegram prowess! By using these Telegram tips and tricks, you can enhance your messaging experience, make it more efficient, and add an element of fun and creativity to your conversations. Whether it's managing your schedule, sharing content, or customizing your chats, Telegram offers a wide range of features to cater to your preferences and needs. Enjoy exploring and mastering these handy features to make the most out of your Telegram messaging!
FAQs
Is Telegram safer than other messaging apps?
Telegram's emphasis on security and end-to-end encryption makes it a secure choice for messaging.
Can I use Telegram on multiple devices?
Yes, Telegram allows seamless synchronization across multiple devices.
Are voice and video calls in Telegram free?
Yes, voice and video calls in Telegram use an internet connection and are typically free.
Can I delete messages for everyone in a group chat?
Telegram's "Delete for Everyone" feature works in group chats as well as one-on-one chats.
Can I customize the app's appearance?
Absolutely, Telegram offers various customization options, including themes and chat backgrounds.