Samsung S22 Ultra Tricks And Tips To Make it Easy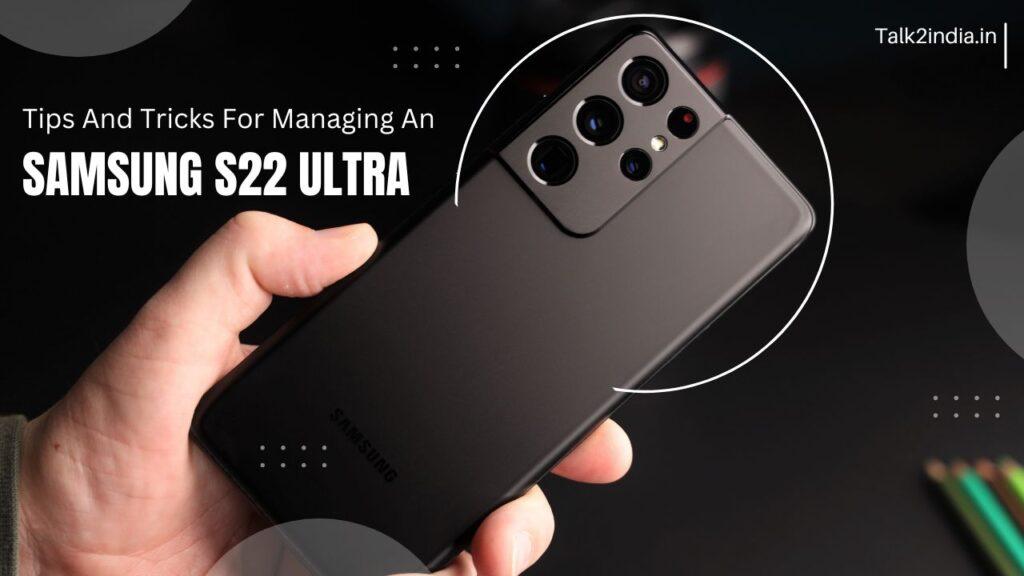 Check it here Samsung S22 ultra tricks and tips to manage your Samsung phone.
Samsung's S22 Ultra has a lot of tricks up its sleeve. From its size to its features, the S22 Ultra is sure to please any user. In this article, we will take a look at some of the most interesting and useful features of the S22 Ultra.
Samsung's S22 Ultra is one of the most advanced Smartphones on the market. Many features that are not available on other phones, such as a camera that can take 4K videos and an 8-megapixel front-facing camera. With its large storage, powerful processor, and stylish design, the S22 Ultra is sure to make your life easier.
Also read : iPhone 14 tricks
Samsung s22 Ultra Tricks and Tips
You've just bought a Samsung Galaxy S22 Series device. While you may think it's already the best purchase you've made, you still have to learn these tips and tricks.
1. Enable Android gesture navigation
The S22 comes with three navigation softkeys, unlike any other Android phone made in 2022. To switch to Android's gestures, swipe down from the top and open Settings (that small cog at the top right). > Display > Navigation Bar. It's quite a bizarre place to have this feature. You can change the order of the buttons or choose 'Swipe gestures instead'.
2. Move all your data using Samsung's Smart Switch App
Download Smart Switch. This is one S22 tip that will save you tons of time. You can use your existing Android phone to download Samsung's Smart Switch application. Connect it to your Galaxy S22 and all your data will be transferred to it. This includes your photos, videos as well as contacts, calendars, notes, and calendars. It will also transfer your settings, apps, and home screen layout if you are coming from an Android phone.
3. You can customize the order of the navigation buttons
You can modify the order of the buttons by going to settings > display > navigation bar. The default III [] will be changed to the [] III position so that the back button is at the opposite end.
4. Remember to use WhatsApp
WhatsApp saves your messages and files in a different way than other messaging platforms. WhatsApp uses your personal cloud storage to protect your privacy and security. This history cannot be transferred between operating systems for most phones. The Galaxy S22 however, allows you to scan a QR code as part of the Smart Switch. This will allow you to transfer your entire history regardless of whether it's from Android or iOS.
5. Edit your home screen
Long-pressing on any wallpaper on a home screen lets you change the wallpaper, style, themes, and widgets and access other settings. You can also add screens by clicking on the + symbol in a circle and then swipe to another page. Or, delete all screens by hitting the trashcan icon at the top.
6. You can use Android 12 Material
To customize your Android 12 experience, hold down the home screen and press the arrow key to access the options. Next, tap Wallpaper and Style. This section allows you to change wallpapers, as well as animated 'video' options. You'll also see an option for color palette. It automatically appears after you have selected a new wallpaper. You can customize the colors of your user interface based on your wallpaper. You can also apply this to icons but only for native Samsung apps and folder backgrounds.
7. App drawer, or no app drawer?
Some phones come with a custom home screen and an app drawer that you can open to access your entire list of apps. Others simply have the home screen which you can swipe through for everything. The default Galaxy S22 has two home screens, an app drawer and a separate home screen. However, you can choose to have only the home screen.
To change it, long-tap on the blank area of your home screen to open Home screen settings. You can then choose which option you prefer by tapping into Home Screen Layout.
8. More on your home screen
You have the option to change the size of your screen grid where your shortcuts and widgets are placed, depending on how dense your home screen is. To change the size of your home screen, long press the screen. You can also swipe down from the top to select the settings cog and then 'Home screen'. You can choose from 4×5, 4×6, 5×5 and 6 options. App screen grid is available separately. Folder grid provides either 3×4 (for apps that are stored in folder arrangements) or 4×4 (for Home screen grid).
9. Download Samsung Good Lock
Samsung Good Lock is, I believe, the most important aspect of owning a Samsung Galaxy S22. This official Samsung Galaxy Store app unlocks more customisation and allows you to display notifications in a different way. You should seriously visit the Galaxy Store to see all that you can do.
Best Samsung Galaxy S22 Camera Tips and Tricks
If you recently purchased the Galaxy S22 or are planning to purchase one, take a look these Samsung Galaxy S22 camera tips and tricks to learn everything about your phone's camera.
1. TURN THE BEASTY MODE 108MP ON
The Galaxy S22 has a larger 108MP camera. It takes amazing photos, and boy does it take them. This mode is not available by default because such photos take up more space. Here's how you can capture photos in the 108MP Mode.
Tap on the Aspect Ratio icon in the top right corner of the camera. Start shooting by selecting 108MP
2. ENABLE THE SCENE OPERATOR
The Scene Optimizer is a great tool to create Instagram-worthy photos with minimal effort. This mode automatically enhances the photo using AI when enabled. They are Instagram-ready.
Scene Optimizer can be enabled by going to Settings.
3. SWITCH ON AUTO FRAME FOR VIDEOS
The new S-series smartphones have a lot to offer. smart. It can also help you choose the right frame for your videos. It's true. Auto Frame is a feature that automatically adjusts the zoom so your subjects stay within the frame.
Switch to Video mode, and then tap the small white circle in the lower-right corner. That's it. From now on, the frame will automatically adjust to capture all of its contents.
4. CAPTURE 8K SNAP
Your phone can record videos at 8K resolution, which you probably already know. To capture 8K videos, all you have to do is tap the FHD-icon on the top of your phone (when it's in Video mode) and the camera will begin to record.
You can take high-resolution photos simultaneously, which is the best part. Simply tap the camera icon in the lower-left corner.
5. INCREASE THE NIGHT MODE TIMER
A dedicated Night Mode is also available on the Galaxy S22. The Night Mode analyses the scene in front of the camera and adjusts its shutter speed accordingly.
You can also choose to "Maximize" the shutter to allow it to stay open for longer.
Switch to Night Mode, then tap on the Timer icon in the lower-right corner. After selecting Max, hit the Shutter key.
6. GIVE A TWIST TO YOUR PORTRAITS
Amazing portraits of the Galaxy S22 Ultra can be found here. The background is just the right balance of blurred and colored. You can adjust the background effect to add a unique twist to portrait photos. There are many options available, from Black and White to ColorPoint.
Next time you want to take a portrait, tap the circular shape in the lower-right corner. You can now choose from the available options.
Also Read: The Difference Between 4G and 5G in India
7. CUSTOMIZE A ONE-TIME TAKE
Samsung's premium phones have a unique feature called Single Take. It allows you to capture multiple photos in different styles. It does all of this simultaneously, which is quite remarkable. Also captures Rewind, Boomerang and videos with Filters with it..
You can change some of the unwanted modes to avoid cluttering your Single Take gallery. Switch to Single Take mode by tapping on the Shuffle icon in the upper-right corner.
8. CHANGE PORTRAIT EFFECTS
You can also change the background effect of older portraits with the Galaxy S22 series smartphones. yes You read that correctly! You can also change the Zoom-effect if you decide that it will make your photos look better.
Open the gallery to do this. You will find a Change background option at the bottom.
Conclusion:
In conclusion, the Samsung S22 Ultra is a powerful and versatile phone that offers a lot of features. It is easy to use and has a lot of features that make it a great choice for anyone. Here are some Samsung S22 Ultra tricks we discussed in this post. So enjoy your phone.
Follow Talk2india on Facebook , Instagram, Youtube for more tech updates.
Also Read: Realme phones under 20000
Also Read: How to Hide Your Online Status in WhatsApp