2023 Popular Google Doodle Games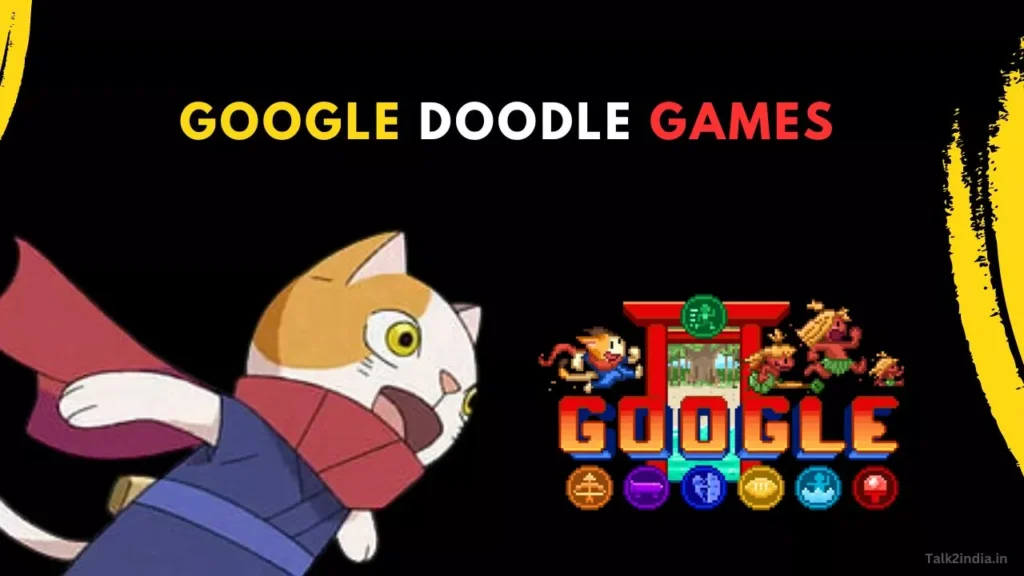 Google Doodles have become a significant aspect of our online journey, celebrating holidays, occasions, and influential individuals. The creative variations of the Google logo bring joy and entertainment to millions of users worldwide during their daily searches. Google has revolutionized the idea of Doodles by introducing interactive games called Google Doodle Games. This article discusses the popular Google Doodle Games and the history of the first one. Discover the best and most well-known Google Doodle Games in this read.
Popular Google Doodlegames
Introducing Google Doodle Games: Uncover the magic of interactive fun with "Google Tricks." Engage in delightful games and experience the joy of Google Doodles like never before!
Baseball
Google Doodle celebrates the sport of baseball in a delightful and interactive way, captivating users with its unique illustrations and animations. Recognizing the sport's rich history and global appeal, these doodles pay homage to iconic players, memorable moments, and the spirit of teamwork. Through these creative and engaging tributes, Google Doodle brings the joy and excitement of baseball to users worldwide, inviting them to step up to the virtual plate and swing for the fences.
Pac-Man
Pac-Man, the famous 1980s arcade game, is a timeless classic. Let's start our list with this world-famous game. Google released a fun Doodle on May 21, 2010, to celebrate Pac-Man's 30th anniversary. Relive the nostalgia with classic arcade gameplay. Enjoy munching on dots, fruits, and ghosts. The game aims to remove all the dots and avoid the ghosts. If a spirit touches you, it's game over. Control Pac-Man with arrow keys on your keyboard. To play with a friend, click "Insert Coin" twice, and Ms. Pac-Man will appear! Control Ms. Pac-Man with A, S, D, and W keys.
Basketball

Basketball is a single-player game where you shoot hoops for fun. This was part of a four-day Google Doodle event where you could test your skills in soccer, slalom canoe, and soccer. Google Doodle lead Ryan Germick revealed that these four games were played over one billion times in just four days. Press and hold the spacebar to build strength to play the game, then release it to shoot. Making the right amount of power is crucial for accuracy. Try to catch as many balls as possible in just 30 seconds!
Cricket
Cricket is a Google Doodle game introduced for the 2017 ICC Champions Trophy. Play cricket and enjoy the game! The game is easy. Just click the bat button to score runs. But it can be addictive. Scoring 100 runs instead of taking a screenshot speaks for itself.
Coding for Carrots
To mark 50 years of Kids' Coding, the Google Doodle team launched Coding for Carrots. Introduce coding to kids with a fun drag-and-drop game. Use building blocks to guide the rabbit and collect carrots. Blocks have arrows pointing in different directions. To finish each level, players must correctly place blocks to guide the rabbit across the platform and collect all the carrots. As the level increases, the sequence becomes more challenging.
Bubble Tea
Bubble Tea is a popular and delightful drink that has gained global popularity. Google even celebrated it with a Bubble Tea Doodle game. In the game, you play as a fox selling Bubble Tea on a rainy day. Your goal is to fulfill the tea orders from customers. It's a short and enjoyable game, and you can play it multiple times if you wish.
Gerald Jerry Lawson Game Creator
Gerald "Jerry" Lawson is the pioneer behind modern home gaming consoles, making gaming accessible to all of us today. On his 82nd birthday, Google Doodle paid a deserving tribute to him. The game creator enables anyone to design entire levels of a platforming game and customize existing templates. This Google Doodle is perfect for those interested in understanding game development in a simpler and more approachable way.
Rubik's Cube
The Rubik's Cube is a colorful puzzle with six sides and 54 squares. It has been a popular game since 1974. In 2014, Google marked its 40th anniversary by releasing Rubik's Cube Doodle, which challenged people worldwide.
To win the game, you must make all sides of the Rubik's Cube the same color. Just click and drag your cursor to twist and turn the blocks in the Google Doodle version. Best of luck!
Pony Express
A letter delivery service from the 19th century was called the Pony Express. The Google Doodle team created an enjoyable Pony Express game to honor this history. In the game, you ride a horse and collect mail while avoiding obstacles.
To play, use the up and down arrow keys to move the rider up and down. Gather as much mail as possible while steering clear of cacti, fences, rocks, holes, and other obstacles. There are three levels in total—try to collect all the mail in each group! Enjoy the adventure!
The First Google Doodle Game
The Birth of Google Doodles
The concept of Google Doodles was born in 1998 when Google co-founders, Larry Page and Sergey Brin, asked then-intern, Dennis Hwang, to create a simple doodle to indicate their attendance at the Burning Man festival.
The Inception of Google Doodle Games
The first-ever interactive Google Doodle Game was introduced in May 2010 to celebrate the 30th anniversary of Pac-Man, offering users an opportunity to play the classic arcade game on Google's homepage.
How the First Google Doodle Game Captivated Users
The Pac-Man Google Doodle Game was an instant hit, with millions of users spending hours navigating the maze, evading ghosts, and setting high scores. Its success paved the way for more interactive Doodle Games in the future.
Conclusion:
Google Doodle Games have evolved from simple static illustrations to engaging and interactive experiences that entertain, educate, and inspire millions of users worldwide. These games celebrate diverse cultures, commemorate historical events, and promote creativity while captivating players of all ages. As technology advances, the future of Google Doodle Games holds limitless possibilities, promising even more exciting and memorable experiences.
FAQ's
Are Google Doodle Games available on all devices?
Yes, Google Doodle Games are accessible on most devices with internet connectivity, including desktops, smartphones, and tablets.
Can I play Google Doodle Games offline?
Most Google Doodle Games require an internet connection to load and play.
How often are new Google Doodle Games released?
Google regularly releases new Doodle Games to commemorate special events or anniversaries.
Can I share my high scores on Google Doodle Games?
Unfortunately, Google Doodle Games do not have a built-in feature to share high scores directly, but you can always boast about your achievements on social media!
Are Google Doodle Games only for entertainment purposes?
While Google Doodle Games are undoubtedly entertaining, they also serve as a means to educate, raise awareness, and promote social causes.