Finding the best keypad phones under 2000 rupees can be challenging due to the numerous options available. However, with some research and understanding of your needs, you can make a smart choice. This article explores top options that offer great features and value for money. Prepare to enjoy the simplicity and affordability of keypad phones without overspending!
In today's digital age, smartphones have become the standard, but keypad phones still possess their own appeal and practicality. They are reliable, user-friendly, and have extended battery life. Whether you're on a limited budget or seeking a secondary phone, there's no need to sacrifice quality.
List Of Best Keypad Mobile Under 2000
1. Motorola a70
Introducing the Motorola A70 Keypad Mobile, priced under 2000 RS. It offers a strong Mediatek processor and expandable memory up to 32GB for impressive performance. The phone supports dual SIM and has a 1750mAh battery for extended usage. Enjoy stunning visuals on the 2.4″ display and capture great photos with the advanced rear camera. The phone is modern, sturdy, and stylish. It also features music playback, crystal-clear sound, and adjustable text size. Additionally, it comes with a 2-year replacement warranty for added security. The package includes the Moto A70 device and a Micro USB charger. The phone is unlocked for all carriers.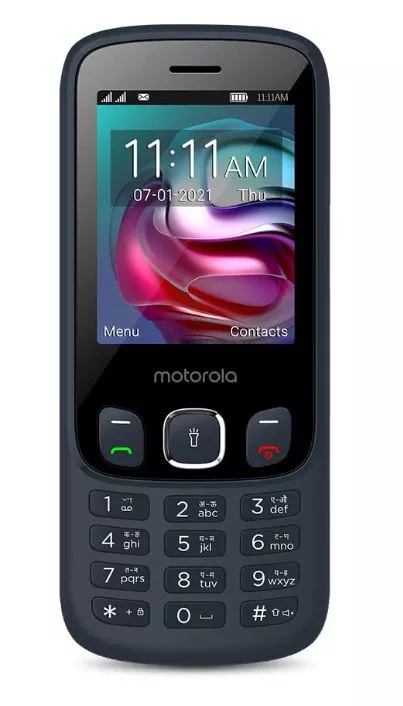 Phone Highlight:
| | |
| --- | --- |
| Brand | Motorola |
| Model Name | Moto A70 |
| Network Service Provider | Unlocked for All Carriers |
| Operating System | Android |
| Cellular Technology | 2G |
| Processor | Mediatek |
| Expandable Memory | Up to 32GB |
| SIM | Dual Sim |
| Battery | 1750mAh |
| Display | 2.4" Quarter QVGA |
| Camera | Advanced Rear Camera |
| Warranty | 2 Years Replacement |
| Design | Modern, Sturdy, Stylish |
| Entertainment | Music Player |
| Sound | Crystal Clear |
| Accessibility | Adjustable Text Size |
| In the Box | Moto A70 Device, Micro USB Charger |
2. Nokia 106
The Nokia 106 Dual Sim is a top keypad mobile under 2000 Rs. It has a built-in UPI app for easy payments and staying connected. The robust battery allows for prolonged usage. You can enjoy FM radio or MP3s anytime, anywhere. The user-friendly design includes a spacious keypad and optional larger fonts. Get the Nokia 106 now for convenience and durability in Charcoal.
Phone Highlight:
| | |
| --- | --- |
| Brand | Nokia |
| Model Name | Nokia 106 DS |
| Network Service Provider | Unlocked for All Carriers |
| Operating System | Nokia Series 30+ |
| Cellular Technology | 2G |
| Built-In UPI Payments App | Send and receive UPI payments seamlessly |
| User-Friendly Design | Large keypad, optional bigger fonts, easy to use |
| Entertainment On-The-Go | FM radio for local stations, MP3 player, MicroSD card slot |
| Long-Lasting Battery | Enjoy extended usage without frequent charging |
| Tough and Durable | Withstand daily wear and tear |
| Color | Charcoal |
.
3. Itel SG600
The Itel SG600 Keypad Mobile Phone is a communication companion priced under 2000 Rs. It features a 2.8-inch crystal-clear display, seamless 2G connectivity, and a powerful 1900mAh battery. You can capture moments with the 1.3MP camera and flash, and enjoy clear calls and the convenience of UPI Pay. The SG600 has a sleek metal finish in deep blue, combining style and functionality. Stay connected with 4-hour service and reliable performance thanks to Itel's Kingvoice technology.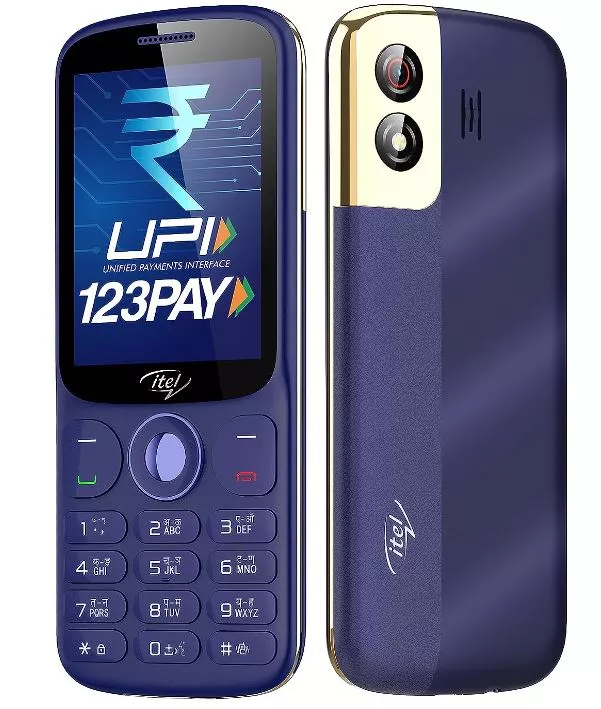 Phone Highlight:
| | |
| --- | --- |
| Brand | Itel |
| Model Name | SG600 |
| Network Service | Unlocked for All Carriers |
| Operating System | Nucleus OS |
| Cellular Technology | 2G |
| Display | 2.8 inch |
| Battery | 1900mAh |
| Payment | UPI PAY |
| Call Quality | Crystal Clear Calls |
| Service | 4 Hour Service |
| Camera | 1.3 MP with Flash |
| Voice Technology | Kingvoice |
| Finish | Metal Finish |
| Color | Deep Blue |
4. IKALL K20 Pro 4G
The IKALL K20 Pro 4g Mobile in Blue is now available. The 4g keypad mobile under 2000 has a 2.4-inch display and a big speaker for King Talking. The phone also has auto call recording. It has 48MB RAM and 128MB internal memory, which can be expanded up to 128GB. This 4g Volte keypad mobile supports dual SIMs, including JIO SIM. It has a powerful 2500mAh battery with fast charging. The battery provides a talk time of 7-8 hours and a standby time of 5 days. The design of the phone is attractive with emerged buttons and enlarged fonts for easy calling and texting. It offers comfort and style.
Phone Highlight:
| | |
| --- | --- |
| Brand | IKALL |
| Model Name | K20 Pro |
| Network Service Provider | Consumer Cellular |
| Operating System | Symbian 9.3 |
| Cellular Technology | 4G |
| Display | 6.1 cm (2.4 inch) |
| Special Features | King Talking, Big Speaker, Auto Call Recording and Contact icon |
| Memory | 48MB RAM + 128MB Internal Memory, Expandable memory up to 128GB |
| SIM Compatibility | 4G Volte Keypad Mobile, Supports JIO SIM, DUAL SIM (4G+4G) |
| Battery | 2500 mAh Battery, Fast Charging Battery, Talk time of 7-8 hours, Standby time 5 Days |
| Design | Attractive design, Palm-friendly with emerged buttons and enlarged fonts for easy calling & texting |
5. Nokia 110
The Nokia 110 Dual SIM is a keypad mobile that is affordable and has essential features. It is unlocked for all carriers and operates on 2G. The phone has a 1.77-inch display, rear camera, FM radio, and music player. It has a long battery life with 14 hours of talk time and 18.5 days of standby time. You can expand its storage up to 32GB. This Nokia keypad mobile under 2000 is a reliable companion for calls and entertainment.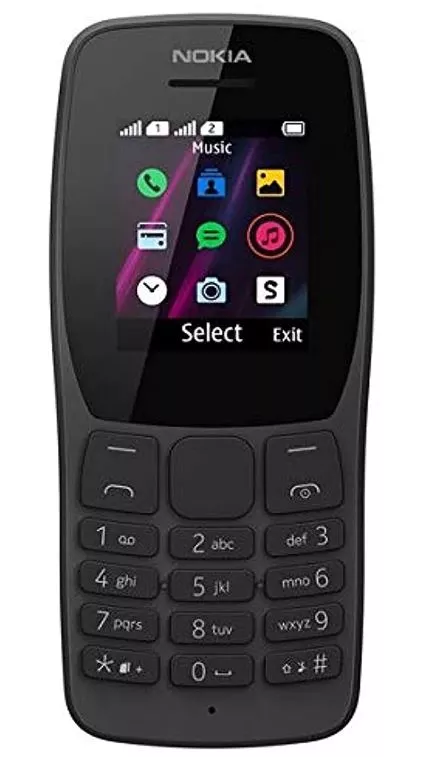 Phone Highlight:
Brand
Nokia
Model Name
110 Dual SIM
Network Service Provider
Unlocked
Cellular Technology
2G
Memory Storage Capacity
32 GB
Display
1.77-inch
Resolution
160 x 128 pixels
CPU
SPRD 6531E
Battery Life
Talk: 14 hrs
Standby: 18.5 days
Features
Rear camera, FM radio, music player
Play Time
27 hrs
Expandable Storage
Up to 32GB
Accessories
Earphones not included
Country of Origin
India
Top Features To Look Before Buying Keypad Phones Under 2000
When shopping for a keypad mobile phone under 2000 rupees, it is crucial to consider certain features. These include a clear and bright display, an ergonomic keypad layout, a long-lasting battery, and essential features such as FM radio and a primary camera.
Conclusion
In a world driven by technology, keypad mobile phones under 2000 rupees continue to maintain their undeniable charm. They provide simplicity, reliability, and a respite from the overwhelming features of modern smartphones. Whether you need a backup phone, a device for older individuals, or simply want to disconnect from the digital world, the above-suggested keypad phones by talk2india have numerous advantages to offer.
If you are looking for slightly lower-budget keypad phones then you can also check our recommendations on Keypad phones under 1000.
FAQ:
Are keypad phones suitable for senior citizens?
Absolutely, the simplicity and tactile buttons of keypad phones make them ideal for seniors.
Do these phones support internet browsing?
Some keypad phones offer limited internet browsing capabilities, but they are not as advanced as smartphones.
What is the average battery life of keypad phones?
Keypad phones are known for their extended battery life, which can last several days on a single charge.
Can I listen to music on these phones?
Yes, some of these phones like Motorola a70, Nokia 106 are designed for music lovers with music player and a good speaker.