As technology progresses, the need for faster and dependable internet access is intensifying. 5G technology is set to revolutionize how we access the web, offering immense speed and interconnectivity. In India, Jio leads the 5G revolution and makes activating unlimited 5G simple. This article provides a comprehensive overview on how to enable 5G in Jio and highlights its many advantages for users.
Things to Consider Before Enable 5G in Jio
Before diving into the exciting realm of 5G with Jio, it's crucial to keep some essential aspects in mind. Here are the important things:
Check 5G Coverage in Your Area
Before you can activate 5G, ensure that Jio's 5G network is available in your area. You can visit Jio's official website or use the MyJio app to check the coverage map. If 5G is available, you're ready to move on to the next step.
Ensure Your Device is 5G Compatible
To access 5G, you'll need a 5G-compatible device. Most modern smartphones released in recent years are 5G-ready, but it's essential to verify that your device supports 5G frequencies. If you're unsure, consult your device's manual or contact Jio's customer support for assistance.
Also Read: Copy Caller tune in Jio
How to Activate Unlimited 5G in Jio on Android?
Open the settings app on your Android phone.
Look for the option called "Mobile Network" in the settings.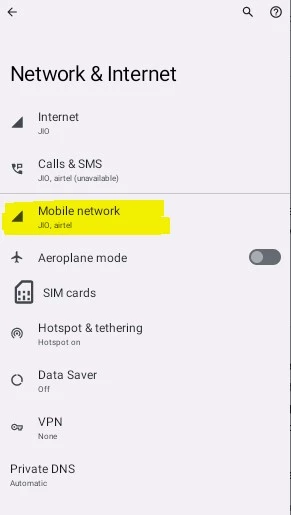 Choose the Jio SIM card that you want to enable 5G on.
In the list of options, find and select "Preferred Network Type."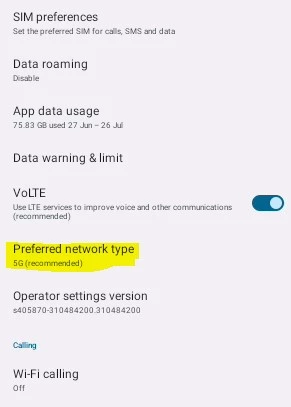 Find and select the 5G option.
After you've done that, you should see a 5G symbol on the status bar at the top of your screen.
This means that 5G services are now active on your smartphone. Enjoy the faster speeds!
Also Read: The Difference Between 4G and 5G in India
How to Activate Unlimited 5G in Jio on iPhone?
Open the settings on your iPhone.
Tap on "Cellular Data" in the settings menu.
Look for "Cellular Data Options" and tap on it.
Choose "Voice & Data" from the options.
Now, you can either select "5G Auto" or "5G On" to enable 5G.
Once enabled, your iPhone will automatically connect to the 5G network.
You'll see a 5G symbol on the status bar, indicating that 5G services are now active on your iPhone.
Congratulations! You have successfully activated unlimited 5G in Jio. Now you can experience lightning-fast internet speeds, buffer-free streaming, and enhanced connectivity on your 5G-enabled device.
Conclusion:
As 5G technology continues to shape the future of communication, Jio remains committed to delivering cutting-edge services to its customers. By following the simple steps outlined in this article, you can Enable 5G in Jio and enjoy a seamless and immersive online experience like never before. Embrace the power of 5G and embrace a new era of connectivity with Jio!
Frequently Asked Questions (FAQs)
What is 5G, and how does it differ from 4G?
5G is the fifth generation of mobile network technology, succeeding 4G. It offers faster speeds, lower latency, and the ability to connect more devices simultaneously, making it ideal for data-intensive applications.
Will I need a new phone to access Jio's 5G?
Yes, to access Jio's 5G network, you will need a 5G-compatible smartphone that supports the required frequency bands.
Are there any additional charges for 5G activation?
Jio's 5G activation process does not involve any additional charges. However, you will need to recharge with a 5G plan to access unlimited 5G data.
Can I switch back to 4G if needed?
Yes, your 5G device will still be compatible with 4G networks, so you can switch back to 4G whenever required.
What makes Jio's 5G plans stand out?
Jio's 5G plans offer unmatched value, providing generous data allowances, high-speed internet, and a range of additional benefits at competitive prices.