Managing our online presence has become essential in the digital age. Sometimes, you may wish to abandon a platform such as Discord for various reasons. Whether you've discovered a new communication tool or want a break from online interactions, deleting your Discord account is simple. In this guide, we'll show you how to delete your Discord account while assuring the security of your data and privacy.
Why Delete Your Discord Account
There are many reasons why you might want to delete your Discord account. You may be interested if you're worried about privacy, want to minimize online distractions, or are curious about other options. No matter why you're deciding, it's crucial to be well-informed.
Also Read: Best Discord PFP Maker
How to Delete a Discord Account
If you decide to delete your account permanently, follow these browser and desktop client steps:
Settings -> My Account -> Remove Account Account deletion
Before deleting, you must do a few things. Server owners must delete or transfer ownership.
You can start the deletion once you've given your castles' keys to the new owners. In order to finalise the deletion, you will need to select the Delete Account button one final time after entering your password and six-digit 2FA code.
Note: You will not be required to provide a code if you are not using two-factor authentication.
Also Read: Discord Last Online Checker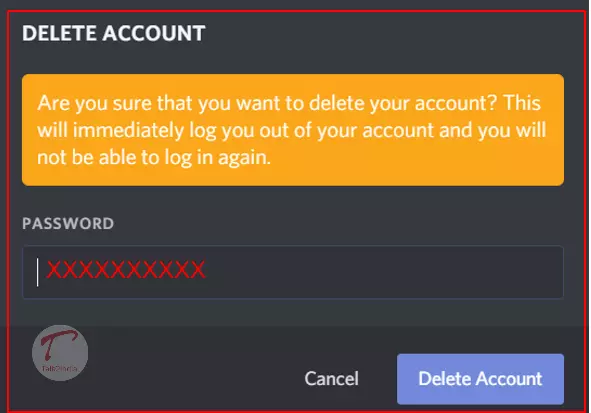 Delete Your Discord Account Via The Mobile App
First, open the app and choose user settings.
Find this by clicking the orange button at the bottom of your screen. Click the orange symbol in the app to access user settings.

Step 2: Click "My Account" and go to the bottom of settings.
User settings allow Discord account management.
Step 3: Click "Delete Account".
Account Management lets you delete your account.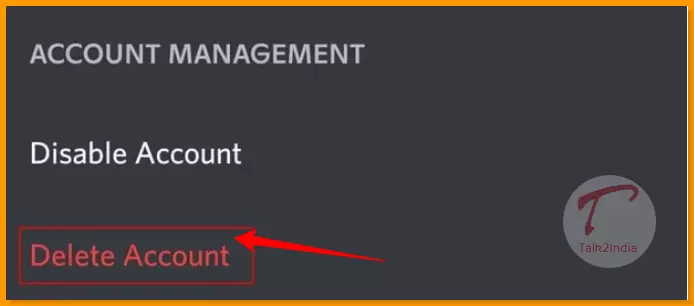 Step 4: Enter your password in the pop-up to confirm account cancellation. Enter your Discord password to remove your account.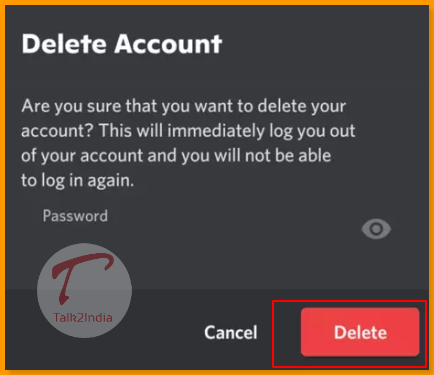 Conclusion
Deleting Discord is a personal choice; examine the advantages and downsides. Follow these instructions to securely delete your account. Remember that Discord prioritizes data processing, therefore your information will be safe.
FAQ's to Delete Discord Account
Can messages be permanently deleted from Discord servers?
Unfortunately, Discord does not have a built-in feature to permanently remove messages from servers. However, you do have the option to delete your messages one by one.
Can I reuse the same email address for a new Discord account after deleting the previous one?
Yes, it is possible to use the same email address for creating a new Discord account.
Is there a grace period before deleting an account permanently?
Once you confirm the deletion of your account, the process begins right away without any grace period.
Can I recover a deleted Discord account?
No, it cannot be recovered once you delete your Discord account, and it will be permanently gone. If you wish to delete your account, you should save any important information first. Additionally, informing your friends on Discord about your decision to leave the site is recommended.
Do I have to delete my account to stop utilizing this platform?
If you wish to leave Discord without destroying your account, select Disable Account. Account suspension occurs after two years of inactivity. Reactivate it anytime within this period. Inactive accounts are permanently removed after two years.