03 HANDY PARAPHRASING TOOLS FOR ENGAGING SOCIAL MEDIA CONTENT
Paraphrasing refers to explaining something already written in different words. This is the simplest definition of paraphrasing.
It is done with two approaches; one is to do it manually, and the second is to use a paraphrasing tool. A paraphrasing tool is specifically built to reword a piece of content and make it more engaging or unique.
A paraphrasing tool gives us a range of options in terms of writing styles, allowing a marketer or writer to create personalized content. Especially when it comes to social media marketing, paraphrasing can help you maintain a certain tone in written content that seems friendly yet engaging.
But there are hundreds of paraphrasers available on the internet, so how can we find a good one?
We already did this for you!
Also Read: Link Multiple Android Phones to WhatsApp
Below is the list of the top 3 paraphrasing tools that are really helpful in your content writing process, have a look at them.
As soon as you will get into this tool, you'll see an attractive display. But having an attractive display is not enough, so have a look at the other important features.
· Modes of Paraphrasing
You can see four different modes at the top of the tool. All these four modes are slightly different in usage and nature. You can select any of the following according to your requirements.
Fluency
Standard
Creative
Smarter
Let's have a little comparison between any of the two using the piece of content.
– Fluency Mode
– Standard Mode
· Words Count Support
As this is a freemium tool, there is a different figure in the paid and free versions. Using the free version, you can rephrase up to 600 words in one go.
And when the users go pro, they can paraphrase up to 1500 words in one go. It is up to you and your requirements whether to go for the paid version or to stay with the free version.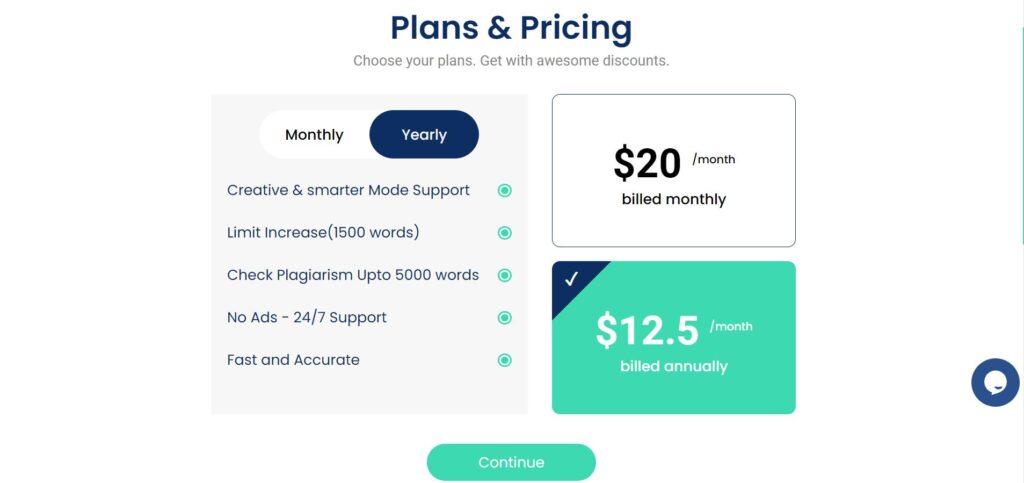 · Multiple Languages Available
You are not limited to rephrasing your content in English or any other specific language. There are multiple languages available from which or in which you can rephrase your content.
Below are some of the available languages mentioned.
English
Espanola
Norwegian
Dutch
French
Germany
Portuguese
Turkish
Indonesian
Many Others
Same as the previously discussed tool, this paraphraser is also having a good and attractive interface. The interface of this tool will never confuse you or you don't need any technical knowledge to rephrase your content with this paraphraser.
Again, having a good interface is a plus point but there are many other features to consider. Let's have a look at them.
· Different Paraphrasing Modes
Most of the paraphrasing tools offer different modes of paraphrasing and the same goes for this paraphraser.
You can use the following five different modes and rephrase your content according to your requirements.
Fluency
Standard
Creative
Smart
Formal
It is somehow impossible to explain their usage without giving any examples. Let's compare any of the two paraphrasing modes with the same piece of text.
– Fluency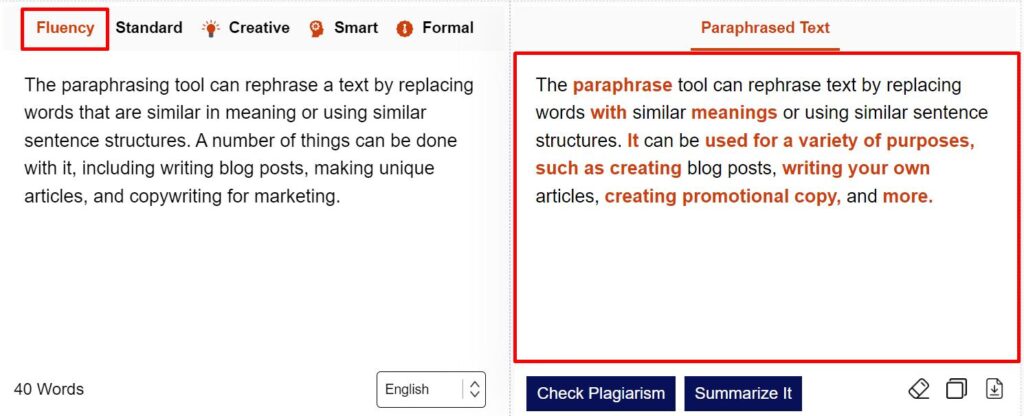 – Standard
· Words Count Support
This paraphrasing tool has two versions; one is free and the other is paid. Both of the versions have different word count limits.
Using the free one, you can rephrase up to 500 words in a single go but with the help of paid version, you can increase the limit up to 1500 words.
· Paraphrase in Different Languages
If you are a student and want to rephrase your assignment in Dutch, no need to worry. You can easily paraphrase your assignment in Spanish using this paraphrasing tool.
And not only Dutch but there are also multiple languages available. You can rephrase your piece of text in any of them.
Below are some of them listed.
Norwegian
German
Dutch
Espanola
French
Many Others
Also Read: Download Videos from Facebook to Your Device
3. Paraphraser Site
If you want a straightforward and easy tool then this will be the best choice. This paraphrasing tool is very simple and easy to use.
Besides the ease of the tool, this also offers some best features to consider which will force the user to pick this tool.
Let's have a look at these features.
· Word Count Support
As there is no paid version of this tool, you can simply rephrase 1000 words at a time in a single go. There is no way to increase this word count limit.
It may be good for some users but this is not a very good option for students as they need to rephrase their lengthy assignments and research papers.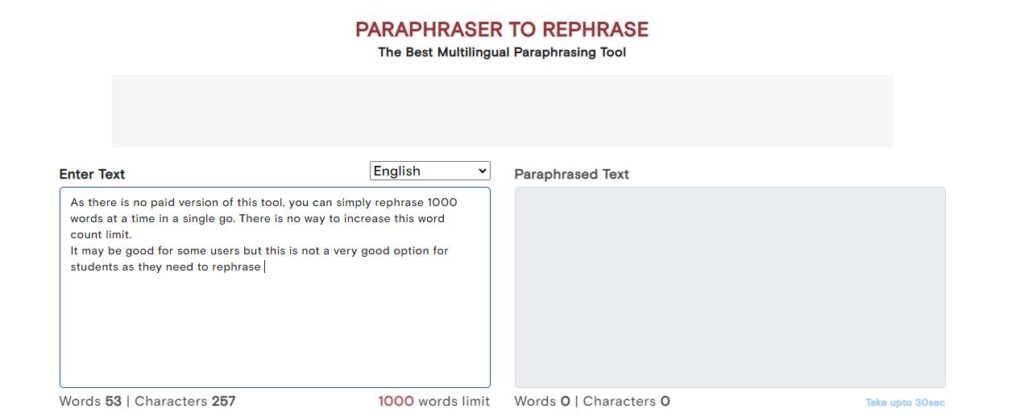 · Multiple Languages Available
This tool is one step higher than the previously discussed tools because there are more languages available as compared to the previously discussed tools.
You can easily rephrase in any of the languages available in this tool. Like you don't need any extra translator to translate your content into any language and then rephrase it.
· Words Counter Integrated
Some of the paraphrasing tools available on the internet offer this facility and fortunately, this tool is one of them.
As soon as you input any text, this paraphraser will immediately specify the number of words.
· Characters Counter Integrated
Sometimes, we need to write content with a specified number of characters and for this scenario, this tool offers a built-in character count.
Same as the number of words, you will be noticed by the number of characters as well.
Conclusion
All three tools discussed in this guide are more than good but if you want a full-fledged package then you can opt for Paraphraser.io because this tool is efficient in all of them.
We have discussed the features of all three tools, and now it's up to your selection and choice.