How to Properly Design an Instagram Profile Header?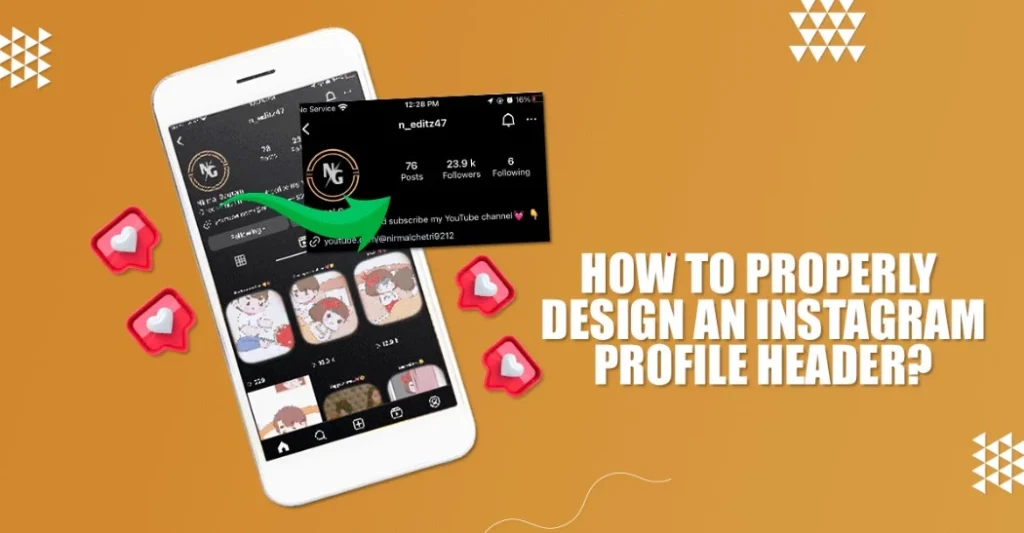 In today's world, where visuals are highly valued, social media platforms have become influential tools for personal branding and business promotion. Instagram, in particular, is widely chosen for sharing content and engaging with a large audience. Crafting an appealing profile header is crucial to creating an attractive Instagram profile. This header serves as the first impression for visitors and potential followers, making it essential to ensure it visually appeals to them and accurately represents your brand identity. This article will discuss the essential elements and recommended methods for designing a captivating Instagram profile header that leaves a lasting impression.
What is the Instagram Profile Header?
The Instagram Profile Header is the uppermost part of an IG profile, showcasing the profile image and biography, activity description, links, and text limited to 150 characters including emojis, hashtags, and mentions. It acts as the initial visual representation of the account, reflecting the brand identity or personal character. An effectively crafted header can substantially influence captivating and involving potential followers.
Why does a well-designed Instagram profile header matter?
In the realm of social media, initial impressions hold great significance. Specifically on Instagram, your profile header is the first element users encounter upon visiting your page on Instagram.
A carefully crafted profile header can significantly impact one's attention and curiosity to explore further. With countless profiles competing for attention, a distinct and visually appealing header can help you distinguish yourself from the masses.
A well-designed profile header captures attention and conveys vital information regarding your brand or personal identity. It serves as a visual representation of your essence and the nature of your content.
By incorporating captivating visuals, colors, and Instagram fonts that align with your brand or personal aesthetic, you can instantly communicate your style and principles to potential viewers.
How to Design an Instagram profile header?
To begin with, let's examine the process of modifying the account description. Open your Instagram profile and select the Edit profile button.
Choosing the right Profile Picture and Specifications for Headers
The profile image is an important part of your header since it shows every post and comments you make. Using your logo as your profile image promotes brand consistency and simple recognition for businesses. Individuals can choose a high-quality headshot or a picture that best represents their specialization and personality. The profile photo should be 110 by 110 pixels in size, and the header image should be 1800 × 600 pixels. To avoid cropping or distortion, keep your pictures inside these dimensions.
Use Nickname or Brand Name
Including the brand name and keywords in the nickname is advantageous as it lets users quickly locate a company or individual when searching on Instagram.
Use the Instagram Font Generator to Create an eye-catching Instagram Stylish Bio Name
Your bio is an opportunity to explain the essence of your brand clearly. Could you create an engaging bio that highlights your skills, hobbies, and value offer? Adding various Instagram fonts for bio enables you to express your personality, highlight important details, or add a touch of individuality to your profile. You can explore different online Instagram font generators and apps designed specifically to discover stylish fonts for Instagram bios. You can use emojis or unconventional characters to enhance its visual appeal, but be careful not to overload it with excessive information.
Using Highlights to Showcase Important Content
Highlights on Instagram are a great method to organize your finest material and make it easily available to users. You can highlight your goods, services, partnerships, testimonials, or strategic behind-the-scenes information. This gives readers a complete overview of your brand and encourages them to explore your profile further.
Incorporating cohesive branding elements into the header
Consistency is essential for good branding. Incorporate your brand's color palette, Instagram fonts, and style into the header design. Use your brand's colors as backgrounds or accents, and select fonts for Instagram that reflect your brand's personality. This coherence promotes your brand image and provides consumers with a coherent visual experience.
Incorporating Call-to-Action
Incorporate a captivating call-to-action in your profile header to boost engagement and interaction. This could involve prompting users to visit your website, urging them to follow your account, or inviting them to join a giveaway. An effectively constructed CTA can significantly influence the growth and performance of your profile.
Conclusion
Designing an Instagram profile header that leaves a lasting impression on your visitors is crucial for building a robust online presence. To properly design an Instagram profile header, it is essential to understand your brand identity, select the appropriate image size, and create an eye-catching bio with stylish Instagram fonts. You can use the Instagram font generator to create stylish Insta fonts. Authenticity and audience engagement are key factors in this process. So, get creative and start designing your captivating and professional Instagram profile header. Enjoy the design process!