अब WhatsApp Pay से करें पैसों का लेनदेन, मेसेज भेजने से भी आसान है तरीका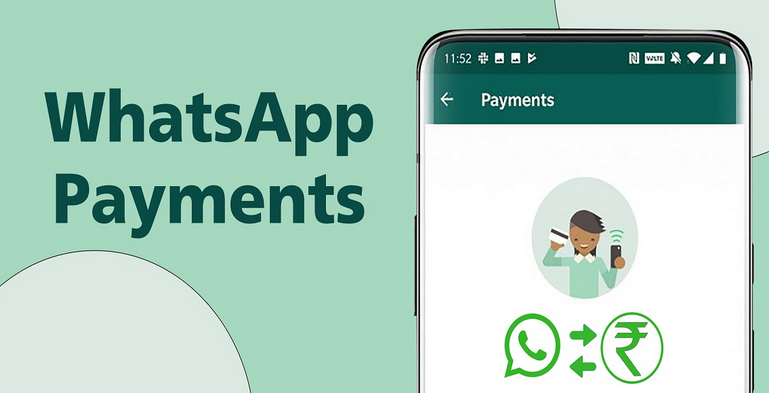 लंबे इंतजार के बाद भारत में WhatsApp Pay का फीचर लाइव हो गया है। यानी अब आप वॉट्सऐप के जरिए भी पैसों का लेनदेन कर सकेंगे। कंपनी ने एक ट्वीट के जरिए बताया, 'आज से भारत के यूजर्स वॉट्सऐप पे के जरिए पैसे भेज सकेंगे। यह पेमेंट का एक सिक्यॉर तरीका है और इससे पैसे भेजना एक मेसेज भेजने जितना ही आसान है।' दरअसल भारत में इस सर्विस के लिए वॉट्सऐप को सिर्फ नैशनल पेमेंट्स कॉर्पोरेशन ऑफ इंडिया (NPCI) के अप्रूवल का इंतजार था, जो अब मिल गया है।
वाट्सएप ने यूपीआई (UPI) का उपयोग करते हए नेशनल पेमेंट्स कॉरपोरेशन ऑफ इंडिया (NPCI) के साथ साझेदारी में इंडिया-फर्स्ट, रियल टाइम पेमेंट सिस्टम तैयार किया है। इस सिस्टम से 160 से अधिक बैंकों के साथ लेनदेन पूरा किया जा सकता है। आइए जानते हैं कि आप किस तरह अपने एंड्रॉयड मोबाइल फोन और आईफोन में वाट्सएप के इस नए फीचर का उपयोग कर किसी को भी रुपये भेज सकते हैं। ध्यान रखें कि आप जिस नंबर से वाट्सएप चला रहे हैं, वह आपके बैंक अकाउंट के साथ रजिस्टर्ड हो।
इसे भी पढ़े:

 

अब घर बैठे बनाए ड्राइविंग लाइसेंस (DL), जाने कैसे ?
Starting today, people across India will be able to send money through WhatsApp 💸 This secure payments experience makes transferring money just as easy as sending a message. pic.twitter.com/bM1hMEB7sb

— WhatsApp Inc. (@WhatsApp) November 6, 2020
क्या है WhatsApp Pay?
यह UPI- आधारित वॉट्सऐप की पेमेंट सर्विस है, जिसकी भारत में फरवरी से टेस्टिंग की जा रही थी। अब इसे सभी यूजर्स के लिए जारी कर दिया गया है। इसके जरिए यूजर्स अपने UPI-इनेबल बैंक अकाउंट्स को लिंक कर सकते हैं और वॉट्सऐप के जरिए पैसे भेज सकते हैं। वॉट्सऐप पे सभी पॉप्युलर बैंक्स जैसे- एचडीएफसी, आईसीआईसीआई, एसबीआई, एक्सिस बैंक और एयरटेल पेमेंट को सपॉर्ट करता है।
इसे भी पढ़े:

 

एन्क्रिप्शन के बावजूद सरकार निकाल लेती है आपका डिलीट किया गया डाट ? जानिए..
वॉट्सऐप पे ऐसे करें सेटअप
सबसे पहले आपको अपना वाट्सएप अपडेट करना होगा। इसके बाद अपने फोन में वाट्सएप खोलें और सबसे ऊपर दाएं कोने में तीन डॉट आइकन पर क्लिक करें।
अब पेमेंट्स पर क्लिक करें। पेमेंट मैथड एड करें। अब आपको बैंकों की एक लिस्ट मिलेगी।
आपको दी गई बैंकों की लिस्ट में से उस बैंक पर क्लिक करना है, जिसका अकाउंट आपको वाट्सएप पेमेंट के लिए एड करना है।
इसके बाद आपके फोन नंबर का वेरिफिकेशन होगा। इसके लिए आपको 'वेरीफाई वाया एसएमएस' टैब पर क्लिक करना होगा।
वेरिफिकेशन प्रोसेस पूरी होने के बाद आपको अन्य पेमेंट्स एप्स की तरह ही लेनदेन के लिए यूपीआई पिन सेट करना होगा।
इसके बाद आपको पेमेंट पेज पर आपके द्वारा चुना गया बैंक दिखने लगेगा
इस तरह भेजें रुपये
वॉट्सऐप पे के जरिए पैसे भेजना एक मेसेज या फोटो भेजने जितनी ही आसान है
वाट्सएप पर उस व्यक्ति के चैट इनबॉक्स को खोलें, जिसे आपको रुपये भेजने हैं।
अब पेमेंट आइकन पर क्लिक करें और जितने रुपये भेजने हैं, वह राशि लिखें। आप इसके साथ एक नोट भी लिख सकते हैं।
वाट्सएप पेमेंट प्रोसेस पूरी करने के लिए आपको अपना यूपीआई पिन डालने की जरूरत होगी। लेनदेन पूरी होने के बाद आपको कंफर्मेशन का मैसेज आ जाएगा।